Folks We Care About: Daryl Dickson
Daryl Dickson
ART AS A PATHWAY TO COMMUNITY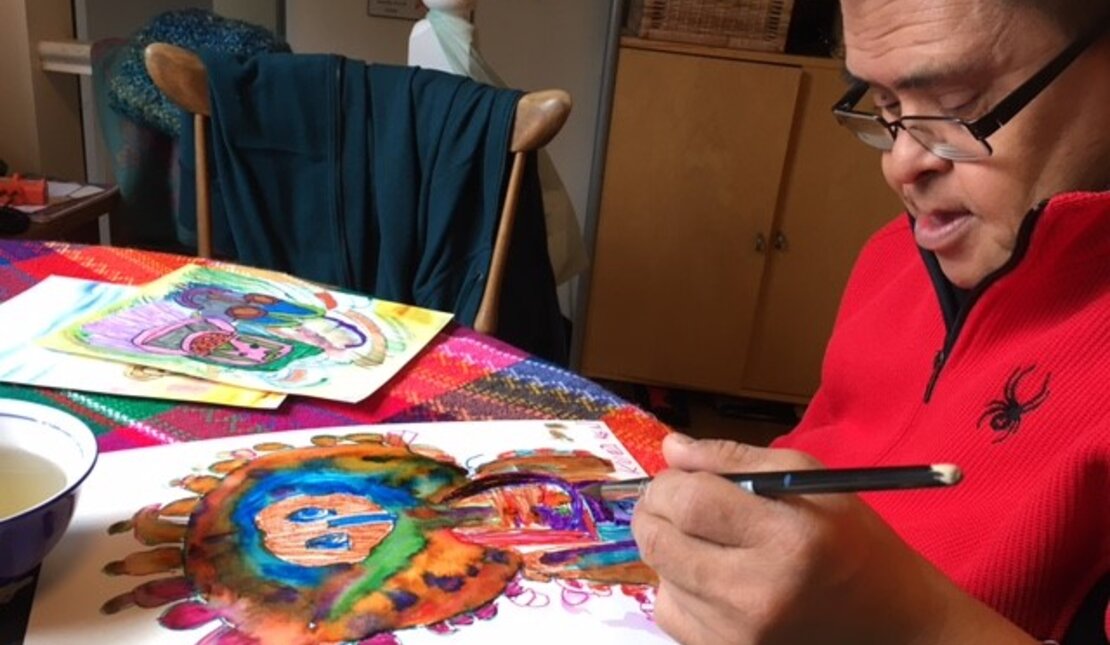 BY REBECCA BLISSETT 
ON JUNE 21, 2021
COMMUNITY SPOTLIGHT
Daryl Dickson loves drawing and painting faces. His outlines made with felt pen blur into a burst of bold colours, a strong representation of imagination spilling onto paper. The artwork is more than a vivid translation of Daryl's experiences – it's a means of communication.
Daryl has been drawing and painting since a young age. Outside of some basic sign language, art is primary method of communication as his verbal speech is limited. Daryl's story here is told in tandem by him and an important person in his life whom he refers to as "Katy Mommy," who is Kate Evans. Kate met Daryl when he was six years old and a student in her class at Douglas Road elementary school in Burnaby, B.C.
"He started drawing and doing art in my class," recalled Kate. "His artwork has definitely evolved. At first, his drawings were very disconnected and didn't have a great deal of colour. Through the years, though, we've spent a lot of time looking at pictures of native and western art and with his own life experiences it has all helped his growth and evolution in art."
Daryl was born into the Sekw'el'was band (Cayoose Creek) in Lillooet, B.C. and Stl'atl'imx Nation in 1969. He often visits family to stay connected to them and his cultural heritage which play a big part in his artwork.
"Sometimes I went to powwows, and I liked the outfits and all the feathers and the dancing. So now I try to draw them," said Daryl. "I like drawing faces and sometimes headdress. Sometimes, I try to draw things that happen in my life. Most of the time, I just draw, and I don't think about it! It makes me feel calm and happy."
Happiness often shines through Daryl's artwork. Kate proudly showed off her favourite piece titled 'Drifting', a dreamlike abstract of a swirl of pen and watercolours. Daryl's work has received some recognition, having once been a finalist in The Art of Being Together show hosted by the L'Arche Foundation. As well, Daryl has exhibited at The Gathering Place (Port Coquitlam, B.C), the INCLUSION Art Show & Sale (Vancouver, B.C.), and at Burnaby's Artists Helping Artists (AHA) shows.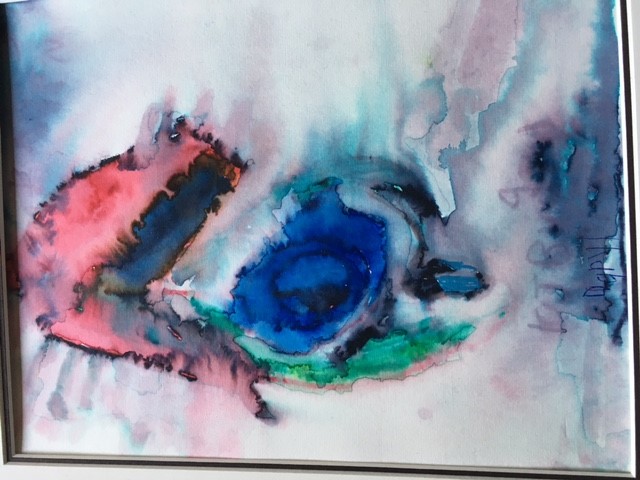 Belonging to the art studio collective that is AHA means the world to Daryl. The group welcomes people of all abilities and skill levels to make art with the belief that art plays a significant role in tolerance and inclusion. Kate has witnessed the overwhelmingly positive impact AHA has had on Daryl.
"It deepens and nourishes the warmth in the hearts of the individuals and allows for self-expression. The openness and the embrace of acceptance allow Daryl the freedom to be truly himself and be able to express his sense of humour, fun, joy and creativity," said Kate. "It means a great deal to him to be a part of this group." Added Daryl: "I like going to AHA. They are my friends, and I like to joke around there. I feel happy there."
Daryl has a full schedule. He practices art almost every day and has been in several plays with Theatre Terrific where he's attending online choral classes. As B.C. moves ahead with post-pandemic reopening plans, Daryl looks forward to getting back to swimming on average 14 lengths at his local community pool and hitting the gym twice a week, walking four kilometres daily, and hanging out with friends from the Special Olympics organization.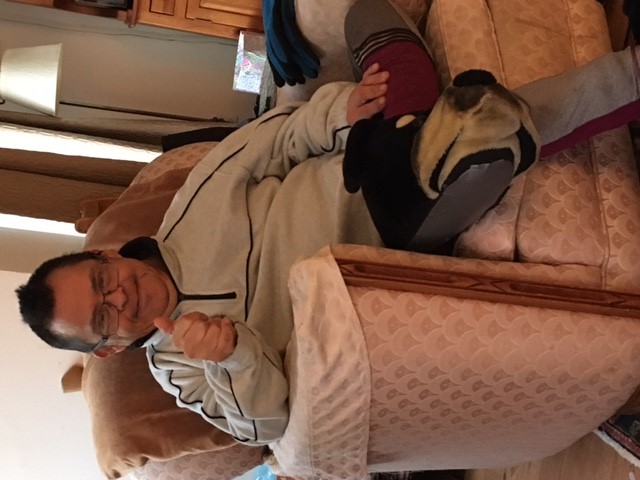 "He lives totally in the present and just does it!" said Kate. "My life has been totally enriched by knowing Daryl and observing such love and depth in his soul."
We hope you enjoyed this story about Daryl and his artwork as we commemorate National Indigenous People's Day together. The Rick Hansen Foundation's blog is a place where we honour different stories about people of varying abilities, celebrate uniqueness, and diversity present as part of the human condition. We acknowledge the intersectionality of indigenous culture and disability as it reflects each individual's unique experience.